After a couple of tries and not being successful with getting the arch on the small downdraft kiln to hold, I seeked out the help of Ben Eberle to get this in place. Third time was a charm! Now all that is left is to continue the front and back walls up to the top of the arch, and get the chimney dampers in place.
Charlie Cummings Gallery has been featuring their phenomenal annual cup show for years. This year marks the 19th one. It is always a pleasure to be a participant, and especially an invited one.
This show will open online on Friday, October 6th at 10:am EST. These are the five cups that I will have in this exhibition.

This wood-fired sculpture, part of the "Fragment Series", will be exhibited in "Visions in Clay" at the Horton Art Gallery, San Joaquin Delta College, Stockton, CA. This show runs August 23rd - September 21, 2023, with an open reception on August 31 from 5:00 pm until 7:00 pm. It will be available for online viewing beginning August 31st.

Here is the full length article that Monika Gass wrote for New Ceramics magazine.
I am very pleased to have an article about myself and my ceramics in the May/June 2023 issue of New Ceramics, an European based international ceramics publication. A great big "thank you" to Monika Gass, of Germany, for writing it.
It is always a pleasant feeling when I get invited to participate in an exhibition. These three cups will be included in the "2023 Invitational Cup Show" being held at the Hudgens Center for Art. The exhibition dates are May 13th - July 22nd, 2023. The Center's address is 6400 Sugarloaf Parkway, Duluth, GA.
I delivered quite an assortment of work to Studio Tashtego on Saturday, April 1st. Here I am with the lovely gallery owner and director, Julia Caldwell.
International Ceramics Exhibition
It is a pleasure to have these two wood fired pieces selected to be shown in Blue Line Arts' international ceramics exhibition, "Off Center". The show runs April 8th - May 20th, 2023. Blue Line Arts is located at 405 Vernon Street, Suite 100, Roseville, CA. There will be an opening reception on April 15th from 4:00 - 7:00 pm.
This Oribe Chawan was recently chosen to be exhibited at the Academy Center of the Arts, located in Lynchburg, VA. The show runs April 7th - 29th, 2023. There will be an opening reception on Friday, April 7th, from 5:00 - 8:00 pm, and an informal talk at 5:30 pm by the juror Hiromi Okumura. The address is 600 Main Street.
I am pleased to announce my affiliation with Studio Tashtego. This gallery is a contemporary art and design gallery specializing in ceramics, glass, furniture, lighting, textile and sculpture. The gallery is located in the historic village of Cold Spring in New York's Hudson Valley region, and it is a pleasure to be represented by Julia Caldwell. Studio Tashtego's address is 49 Main Street, Cold Spring, NY 10516; telephone: 917-794-4643; email: studio@studiotashtego.com
Collaboration with Jack Troy
Over the past year Jack Troy and I, thorough emails, have discussed the glaze Oribe. Recently he sent me two cups that he had thrown out of his porcelain clay body and asked me if I would glaze them in oribe. For doing that, I got to keep one of the cups, which is shown. This was quite an honor and I was thrilled for the opportunity.

This wood fired clay sculpture will be exhibited in "Fragments", to be held at Strata Gallery, located in Santa Fe, New Mexico, January 3rd through January 21st, 2023. It will be one of 46 artworks, chosen from 740 entries, on display. Strata Gallery's address is 418 Cerrillos Road, Suite 1-C.
Building a kiln presents its challenges, and many are not concerning the kiln itself. I have been the sole laborer for this entire project, with the exception of digging and filling the kiln pad with gravel, erecting the trusses, and pouring the cement for the chimney support. Thus, I have had to research and ask questions to knowledgeable people in order to come up with the best solution for a problem.
For me, one of the biggest has been figuring out how to access the peak of my kiln shed roof in order to carry the chimney through and work safely. After securing a pair of ladder hooks, a set of Ultimate Ridgehooks, and a Chimney Bracket, I am now able to stack the chimney brick above the roof line. The next challenge will be flashing the chimney, but that will, hopefully, be an easier task.
Chimney Bracket in place, mounted on Ultimte Ridgehooks. Ladder on roof is positioned with ladder hooks.
Staging in place using 2" x 8" lumber, and 2" x 4s positioned and secured with Simpson Ties. This allows me to get to the other side of the chimney to work.
Brick as it is being stacked to come above the roof line. It will rise 3 feet above the roof peak. Angle iron bracing will be put in place along corners.

It's always a great feeling for me when I have the opportunity to exhibit my artwork in the town (now a city) that I grew up in (Greenville, NC) and went to college (ECU), where I first started working with ceramics. These two wood fired pieces will be at Emerge Gallery for an exhibition that will run October 7-27, 2022. There will be an opening reception on Friday, October 7, 2022, from 5:00-8:00 pm.
Strictly Functional Pottery National
This oribe sushi tray was chosen by jurors Carolanne Currier and Jack Troy for inclusion in the 30th annual "Strictly Functional Pottery National Show". This exhibition will be showcased at the Lancaster Museum of Art, Lancaster, PA , and runs September 17th - November 5th, 2022.

This oribe hanaire/vase was selected to be exhibited in "Clay International 2022", being held at Workhouse Arts Center, Lorton, VA. The exhibition runs August 6th - October 9th, 2022, and will be viewable "in person" as well as "online".

The metal bracing is in place and secured, as well as the arch form positioned and shimmed. Now its onward with constructing the sprung arch. Then, this down-draft wood-fired kiln will be finished!
I am participating in Schaller Gallery's exhibition, "Enduring Surfaces: Glazes IV". It opens on June 14th (Tuesday) at 2 pm EST. This is one of numerous pieces that I sent.
This wood fired hanaire/vase was recently accepted into "GeoLogic", an exhibition being held at Atlantic Gallery, located in the Chelsea District of New York City. The show runs June 21st through July 9th, 2022. An opening reception is slated for Thursday, June 23rd. Juror was Bruce Dehnert.

Yunomi Invitational at AKAR Gallery
These six oribe glazed kurinuki yunomi are headed to Iowa City, Iowa for the June opening of AKAR Gallery's "Yunomi Invitational".
I made some good progress on my kiln construction during the fall of 2021. Jamie Guggina, a potter in Florence, MA loaned me his brick saw, which was a game changer. (Thanks to Westhampton, MA potter Sam Taylor for making that happen). The primary focus has been on the small down-draft and chimney. I had to get enough of the tunnel kiln up so I could extend the chimney, which is necessary in order to fire the down-draft once it is finished. There is still a bit of work to do, primarily bracing and putting the arch on, and getting the chimney up through the roof. Winter has put a hold on things, but I will start back up early spring. Here are a few images to show where I currently stand.
Front view of small down-draft; ready for arch.
A portion of the tunnel kiln constructed to allow for the chimney to be built.
Chimney's passive dampers that are below the damper slot.
This shows how a ledge was created for the damper to slide in and out upon.
Lintel placed over the damper slot.
International Wood Fire Exhibition
Kilnship: International Wood Fire III
This show idea started with Phil Rogers being a guest curator and putting together an invitation list that was wide, diverse, and filled with unbelievable talent. While wood-firing has become largely an aesthetic choice, these Makers continue to use this labor-intense firing process to create their work. Known for its ability to create luscious ash deposits, warm flashes of color, and unique surfaces, wood firing continues to draw makers to the fire. Participating makers include Troy Bungart, Joe Bruhim, Linda Christianson, Doug Fitch, Samuel Johnson, Shinsuke Iwami, Mami Kato, Osamu Inayoshi, Lucien Koonce, Ryan Smith, Ken Matsuzaki, Hannah McAndrew, Andrew Satorious, and Dexter Woods.
Exhibition opens November 16th at Schaller Gallery, in Baroda, Michigan, and online.
The Teabowl: East Meets West
East Carolina University Alumni Exhibition
I first began my journey in clay when I was attending East Carolina University's School of Art. I grew up in Greenville, and a block away from the campus, so it always had been a part of my life. My intentions were to study another discipline within the Art Department, but from the first day in Ceramics Survey, I knew that clay was to become my focus. I wasn't an "arty" person, I didn't take art classes in high school, and I didn't grow up around art. But I could identify with functional vessels, I enjoyed working with my hands, and there was "fire" involved...lol.
Long story short, it is a pleasure to have the opportunity to exhibit a piece in the School of Art and Design's Alumni Exhibition. This piece, "Fragment" (wood fired stoneware, 6.50" H x 16.00" W x 4.50" D; hand formed stoneware clay with native NC clay, and natural ash glaze; wood fired in the anagama side-stoke area for 5 days to c/12; 2018).

The alumni exhibition is at several venues, but this piece can be seen in the Janice Hardison Faulkner Gallery, Joyner Library Complex, located on East 5th Street. The show runs August 25th through September 25th.

This wood fired piece is being exhibited in "Clay Center Sculpture National", April 3 – 25, 2020, at The Clay Center of New Orleans, 1001 South Broad Street, New Orleans, LA 70125.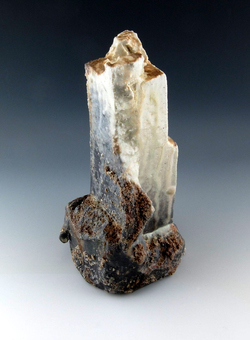 With most art museums being closed in the United States due to the virus, many continue their exhibitions online. This year is the 23rd Annual National Ceramics Competition at the San Angelo Museum of Fine Arts, located in San Angelo, TX. Held every two years, this is an outstanding juried show, and it is my pleasure to be exhibiting there once again. The show runs April 17th - September 6th, 2020. Here are my two accepted pieces: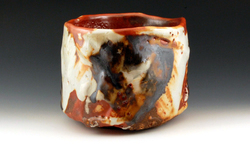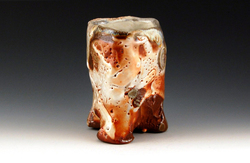 While the current virus situation has cancelled most exhibition venues across the country, ClayAKAR's Yunomi Invitational, which is always "online", will happen! The show opens on June 12th at 10:00 AM Central Time. Here are the five wood fired kurinuki cups that I will be sending: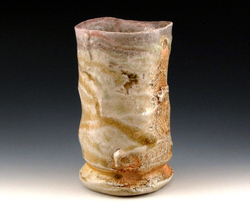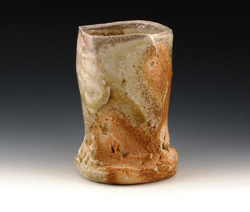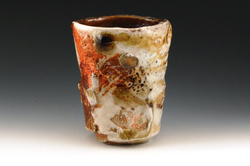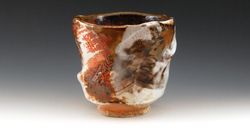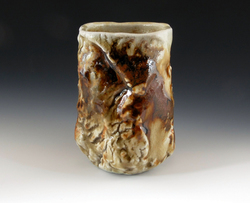 A nice piece written about the sake vessels exhibition at The Stratford Gallery, published in the local newspaper.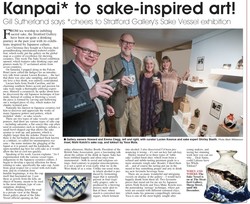 The Stratford Gallery opening
The opening of "The Sake Vessel: Contemporary Interpretations", The Stratford Gallery, Stratford-upon-Avon, England, on Saturday, November 16th, was a huge success. The sake tasting event and the gallery opening were well attended. Click on the title, above, which will take you to the exhibition page. Here are some images from the lectures and gallery opening...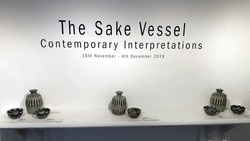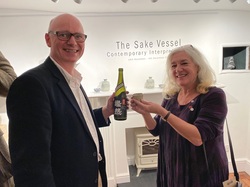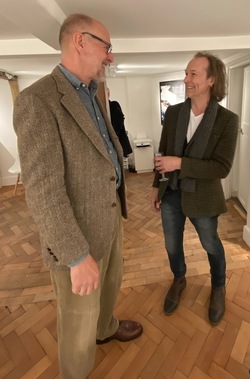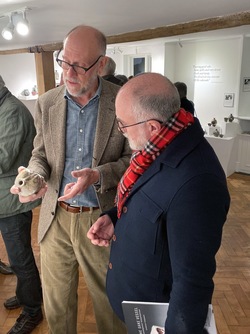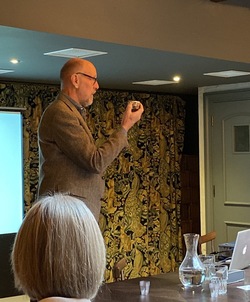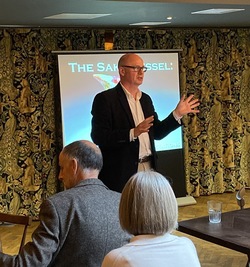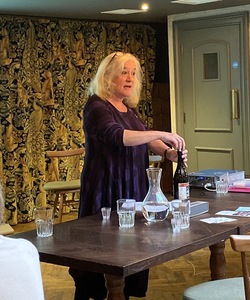 I am currently in an exhibition being held at Schaller Gallery: "Time Honored - Glazes". These are four of the eight wood fired kurinuki pieces I have in this show...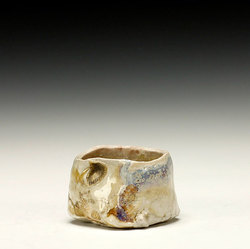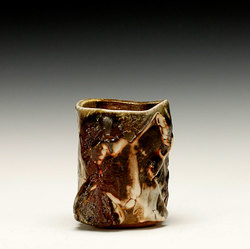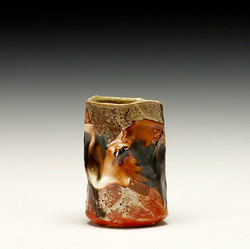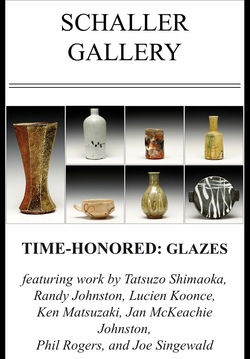 International Ceramics Exhibition
These two wood fired pieces were recently selected for "International Ceramics Juried Exhibition", being held at The Center for Contemporary Art, Bedmeister, NJ. This exhibition opens November 9th and runs through December 21st. Out of over 400 submissions, 52 were selected for exhibition.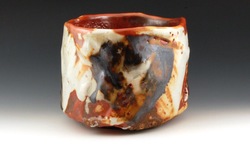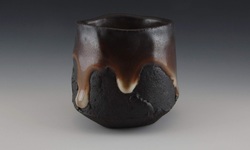 These five guinomi are being exhibited in "Cup: The Intimate Object XV", being held at Charlie Cummings Gallery, 2040 NW 6th Street, Gainsville, FL. The exhibition opens on October 5th and runs through October 31st. There will be an opening reception on Friday evening, October 4th, from 6:00 - 9:00. The show will go online Saturday, October 5th, starting at 12 noon. www.charliecummingsgallery.com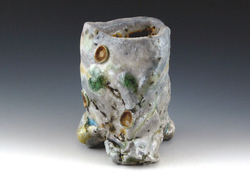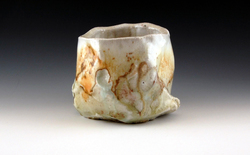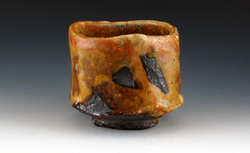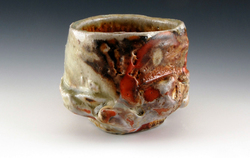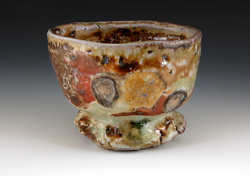 The June firing of Chris Gustin's anagama resulted in some very wonderful pieces. It was an excellent firing for everyone involved. Here are a few of my works from the firing: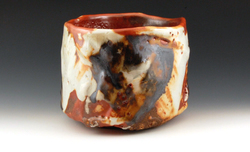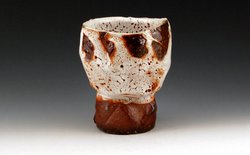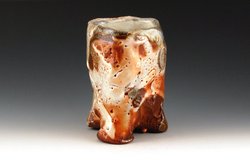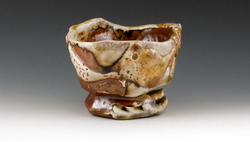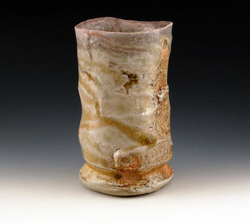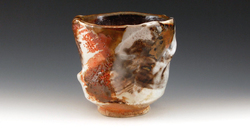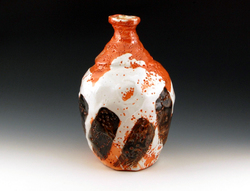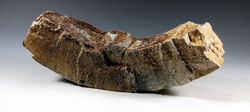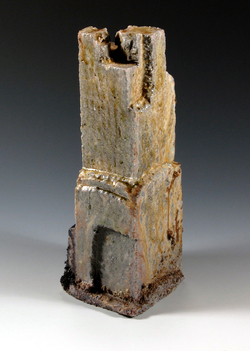 I will be exhibiting in a group show, April 25 - May 26th, entitled "Rough Stuff: A Celebration of Wild Surface". This exhibition will be at Cavin-Morris Gallery, located at 210 Eleventh Avenue, Suite 201, New York, NY. These are two wood fired pieces that I will have in this show.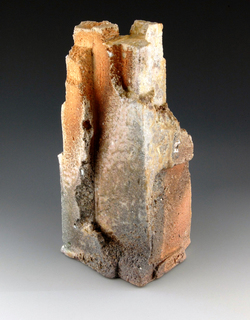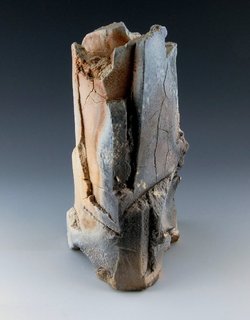 I have been invited to exhibit in Schaller Gallery's (Saint Joseph, MI) upcoming exhibition "Sushi, Sake, Tea", which opens this coming April. My work will include three small sushi plates paired with chopsticks rests, four sake cups, and one sake flask. These are two of the pieces that will be shown.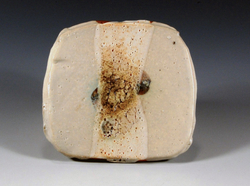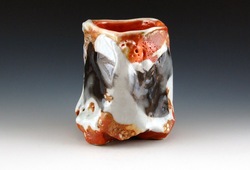 I am always pleased when I have the opportunity to exhibit in my native state of North Carolina, especially if it is where I lived for many years of my life, those two being Greenville, and the Robbins/Seagrove vicinity. This wood fired Ikebana vase will be shown in the "Art of Clay", at the North Carolina Pottery Center, Seagrove, NC. The exhibition is in conjunction with the North Carolina Pottery Conference, and runs March 3rd - June 15th, 2019. An opening reception is scheduled for Sunday, March 3rd, 1:30 pm - 4:30 pm, and the public is invited to attend.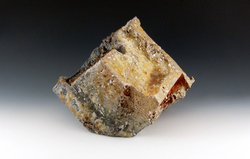 I am pleased to be curating my third sake vessels exhibition, this one being showcased at The Stratford Gallery in the UK. The exhibition will be titled, "The Sake Vessel: Contemporary Interpretations", and is slated to open mid-November of this year (2019). It will include 35 ceramicists from six countries, and there are plans to publish a full color exhibition catalog.

Here is the list of artists exhibiting:

USA
Joe Bruin
Rob Fornell
Anthony Gaudino
Mitch Iburg
Lucien Koonce
Dick Lehman
Kristin Muller
Tim Rowan
Akira Satake
Jeff Shapiro
Hitomi Shibata
Takuro Shibata
Mike Weber
UK
Eddie Curtis
Margaret Curtis
Lisa Hammond
Akiko Hirai
Phil Rogers
Sim Taylor
Sweden
David Louveau
New Zealand
Elena Renker
Aaron Scythe
Japan
Watanabe Akihiko
Ikeda Asato
John Dix
Tomoo Hamada
Shigemasa Higasheda
Osamu Inayoshi
Mami Kato
Hiromi Matsukawa
Ken Matsuzaki
Richard Milgrim
Yoca Muta
Koichi Nishi
Germany
Uwe Lollmann